Details
Write a comment
ICNA
Updated
October 15, 2020
It is with great sadness that the ICNA announce the passing of Kenneth Swaiman, MD, the founder and first president of the Child Neurology Society, Child Neurology Foundation, and the Professors of Child Neurology, original author and continuing editor of Swaiman's Pediatric Neurology, and founding editor of the journal, Pediatric Neurology.
IN MEMORIAM: KENNETH FRED SWAIMAN, MD
(November 19, 1931 - September 18, 2020)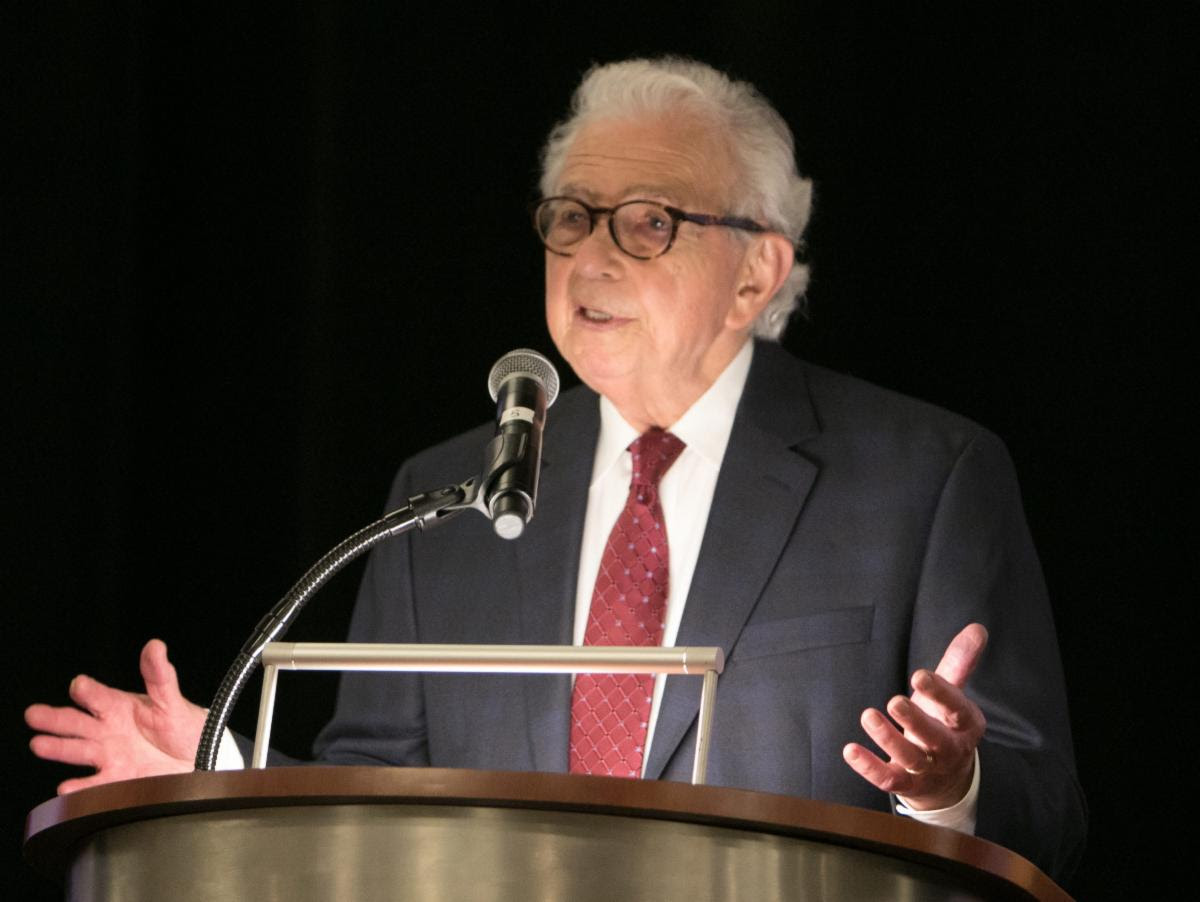 Ken Swaiman was a visionary who has played a universally recognized, pivotal and remarkable role in the development of child neurology. He initiated the founding of the Child Neurology Society, the Professors of Child Neurology and the Child Neurology Foundation, and the publication of what is regarded as the primary textbook in the field, Pediatric Neurology: Principles and Practice. He began the journal, Pediatric Neurology, one of the major pediatric neurological journals and served as its editor from 1984-2012. For these and many other accomplishments, Ken was honored by the Child Neurology Society at the 2017 Legacy Reception.
Ken, although born in St. Paul (1931), was raised in Minneapolis, Minnesota. His Lithuanian parents, before meeting, separately immigrated to the United States, met in St. Paul, and moved to Minneapolis. Ken attended the University of Minnesota, earning degrees in Liberal Arts (Magna Cum Laude, 1952), Science (1953), and Medicine (1955) and then joined a rotating internship at the Minneapolis General Hospital (1955-56), followed by a Pediatric residency and Chief residency at the University of Minnesota Hospitals (1956-58). This was followed by two years as Chief of Pediatrics at a US Army Hospital (Ft. McPherson, GA). He returned to Minnesota where he was an NIH-sponsored 'Special Fellow in Pediatric Neurology' (1960-63) under the mentorship of Dr. A.B. Baker, one of the founders of the American Academy of Neurology (1948). Ken received board certifications from the American Board of Pediatrics (1960), the American Board of Psychiatry and Neurology (1966) and the American Board of Psychiatry and Neurology, with Special Competence in Child Neurology (1969).
Ken joined the Pediatric and the Neurology faculties at Minnesota (1963) and within a decade became a full Professor in both departments. He was Director of the Pediatric Neurology Training Program and Director of Pediatric Neurology (1972), serving in those capacities until 1998. During his career, Ken belonged to 20 professional organizations. He engaged in basic science research: GABA and phenylalanine metabolism, metabolic abnormalities in pediatric neuromuscular conditions, the effects of malnutrition on the developing brain, and clinical disorders, including acid maltase deficiency, sea blue histiocytosis and the effects of iron and other metals on cerebral energetics. Ken's interest in clinical teaching and research investigation, and transmitting this information to the trainees in his program and worldwide, was always in the forefront of his thoughts. He held leadership positions in key child neurology organizations, including the Child Neurology Society (CNS, First President 1972-1973), International Child Neurology Association (Executive Committee 1970-1979), Professors of Child Neurology (PCN, First President 1978-80) and the Child Neurology Foundation (CNF, First President 2000-2003). Ken was also on many National Institutes of Health Study Sections and has shared his knowledge as a visiting professor giving over 50 special lectures throughout the United States and in many countries worldwide.
Trainees and Awards. Ken served on 15 editorial boards of major scientific journals. He also served as a board examiner for the American Board of Psychiatry and Neurology. He has received numerous awards, with the three most prestigious being the Hower award (1981), the highest award given by the CNS to an individual who is highly regarded as an outstanding teacher and scholar, and additionally, has given a high level of service to the CNS, the Founder's Award at the 25th anniversary meeting of the CNS (1996), and the American Academy of Neurology Lifetime Achievement Award for Neurologic Education (2005).
During his tenure at Minnesota, Ken trained over 80 child neurologists and he felt that contact with his residents was one of his prime motivating forces for beginning all of the organizations that he started. He felt that the role of teacher and mentor was the most important responsibility that a faculty member can have. His trainees came from all over the world and went on to provide continuing education in the U.S. and in their home countries.
Child Neurology Society. The first Accreditation Council for Graduate Medical Education (ACGME) specialty board devoted to individuals with neurological and psychiatric disorders, the American Board of Psychiatry and Neurology (ABPN), was established in 1934. Another 34 years elapsed before Child Neurology was recognized as a distinct neurology subspecialty (American Board of Psychiatry and Neurology, with Special Competence in Child Neurology, 1968). Having long recognized the uniqueness of child neurology, Ken gathered together a small group of senior Midwest pediatric neurologists in 1971 and the following year, he founded the CNS (1972), holding the first meeting at the University of Michigan. There, the Society was incorporated, by-laws were created, an Executive Board was formed, and plans were made to hire administrative staff. The formation of the CNS was a major force in the expansion of Pediatric Neurology training programs, and many more medical students and residents decided to pursue a career in pediatric neurology.
Professors of Child Neurology. The Association of University Professors of Neurology (AUPN), one the principal organizations involved in the training of neurologists, held its first meeting in 1968 to address training, legislative, workforce and research funding issues and to serve as a liaison with many organizations. Realizing the importance of having a parallel organization for academic child neurologists, Ken founded the PCN with the help of Bruce Berg (1978), with Ken serving as its first President. The PCN meets at the CNS annual meeting and serves many roles including support of training programs, program directors, coordinators and residents, as well as serving as the interface with multiple other organizations (CNS, ACGME and ABPN). Ken was a tireless advocate for improving the quality of pediatric neurological education, the advancement of the field, and the means to increase the knowledge and capability of pediatric neurologists.
Child Neurology Foundation. Ken founded the CNF in 1999, recognizing the need to support the outreach of child neurologists and support of families and children with neurological disorders. He was the CNF's first President and he was instrumental in securing the resources to start the organization's Researcher in Training and Scientific Awards. Such was the trust in the future of the Foundation that significant industry support was obtained through Ken's and Roy Elterman's efforts. More recently, the CNF redirected its efforts to focus on the needs of families and children, and it conducts unique symposia at the annual CNS meeting.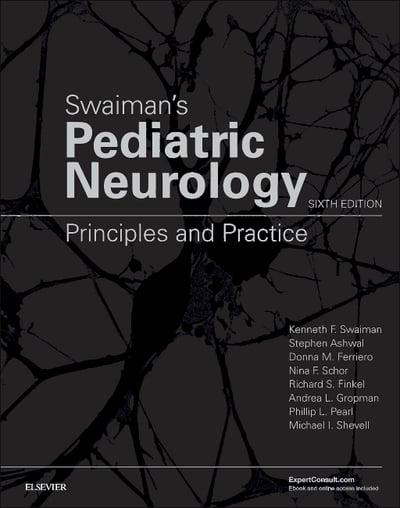 Pediatric Neurology: Principles and Practice. The first textbook solely devoted to the entire field of Child Neurology appeared in 1845 (Ludwig Mauthner). Over the ensuing century, additional monographs were written by Bernard Sachs (1895), James Taylor (1905), Martin Theimich and Julius Zappert (1910), Ludwig Bruns (1912), George Peritz (1912), Bronson Crothers (1926), and Frank Ford (1937). For a variety of reasons, comprehensive texts devoted to the field did not appear until that of John Menkes (1974), the first edition of the book by Ken Swaiman and Frank Wright (1975) and the textbook by Jean Aicardi (1992). The book, "The Practice of Pediatric Neurology," edited by Ken and Frank Wright and the subsequent 1982 edition were internationally acclaimed. Ken then became sole editor of the next edition (1989) when the title changed to "Pediatric Neurology: Principles and Practice," with subsequent editions published in in 1994, 1999, 2006, 2012 and 2017. As the book grew in size and coverage, additional editors joined Ken: Steve Ashwal (1999), Donna Ferriero (2006), Nina Schor (2012), and Andrea Gropman, Richard Finkel, Phillip Pearl, and Michael Shevell (2017). The growth of the discipline is documented by the fact that the number of pages and chapters has grown greatly: from 40 chapters/1,082 pages in 1975 to 170 chapters in 2017 (online version of >3,500 pages; shortened print version of 1432 pages).
The journal, 'Pediatric Neurology'. Although there were several journals that covered neurological disorders, it was in 1951 that the first issue of Neurology, the official journal of the American Academy of Neurology (AAN) appeared. Then, in 1975, the American Neurological Association founded the Annals of Neurology. Shortly thereafter and with a certain degree of debate and controversy, the CNS became co-sponsors of the Annals, with all society members getting a subscription to the Annals as part of their dues. Ken described in detail the process that led to his decision to develop a journal solely devoted to child neurology and within several years (1985), "Pediatric Neurology" appeared. The journal has grown remarkably, receives many contributions from all over the world and has a high impact factor. Ken continued as Editor-in-Chief until 2012 and in 2013, he turned over this position to Steve Roach who has maintained the high standard of the journal, with a steadily rising impact factor.
The word 'retirement' was not in Ken's lexicon. He continued to attend CNS meetings, maintained close contacts with leaders of the CNF and was Editor and co-author of chapters in the 2017 edition of the reference text that he began
More than any other modern-day neurologist, Kenneth Swaiman has led the way in establishing the field of child neurology. He has served as the most lustrous academic beacon in the CNS. To hundreds of academicians, he has shown the way in patient care, teaching, research and scholarship and, in that way, has bettered the lives of tens of thousands of children with neurological disorders. No one has come close to Ken in establishing the academic origins and growth of Child Neurology. Through his years of tireless work and productivity, Ken has consistently exuded great warmth, a dazzling smile, and an infectious laugh. He has inspired countless others to reach for lofty goals, inspired by Ken's many legacies.
Ken and his wife of 35 years, pediatric neurologist Phyllis Sher, alternated their residences between Minneapolis and Tucson. Phyllis was a past member of the Executive Committee of the CNS, taught at the University of Miami Medical School, the University of Minnesota Medical School and did research at the NIH. While in Arizona, she taught at the University of Arizona School of Medicine, returned to her artistic background and is an accomplished painter. Ken received unswerving support from Phyllis during his last of several illnesses, sharing their deep love as Ken reflected on his life, a life so well lived. In addition to Phyllis, Ken is survived by children, Lisa Swaiman (Jim Grossman), Jerrold Swaiman, Barbara Swaiman (Mark Franklin), and Dana Hoberman (Bruce); and grandchildren, Isaac Swaiman, Sarah Grossman, Ethan Swaiman, Danielle Swaiman, Sawyer Franklin, Ryan Franklin, Jordan Hoberman and Benji Hoberman; and great grandson Everett Swaiman.
Submitted by longtime colleagues and friends,
Stephen Ashwal, MD
N. Paul Rosman, MD
Source:Child Neurology Society,United States
Details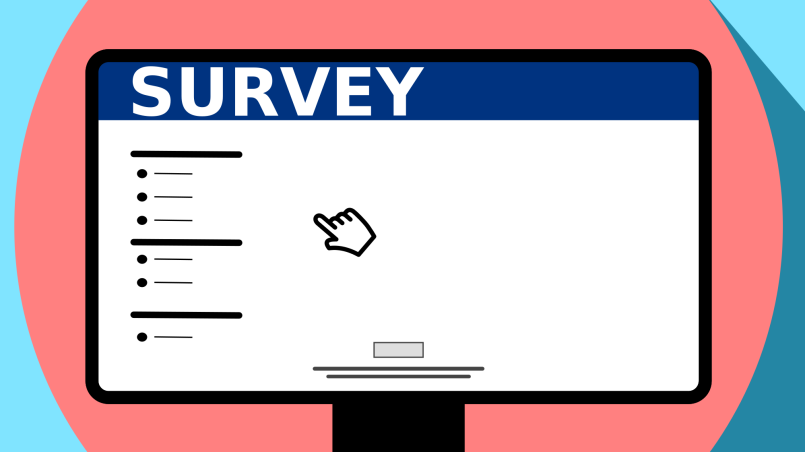 Write a comment
Dear Colleague,
We hope you will take 10-15 minutes to answer this brief survey about medical treatment in childhood epilepsy from ILAE's Paediatric Commission Medical Task Force.
The aim of the survey is to study your current treatment practices in 6 typical early life epilepsy scenarios. Our aim is not only to show first and second line treatment preferences, but also to illustrate that we commonly use off-label drugs in childhood epilepsies.
Read more: Survey about medical treatment in childhood epilepsy from ILAE's Paediatric Commission Medical...
Details
Write a comment
ICNA
Updated
August 03, 2020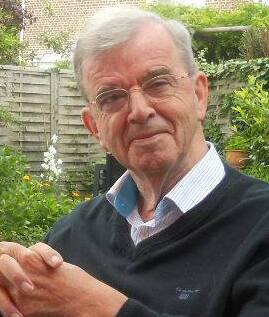 It is with great sadness that the ICNA announce the passing of Paul Casaer former ICNA President & Emeritus full Professor in Paediatrics-Paediatric Neurology, KU Leuven, on 30 July 2020.
Details
Write a comment

BPNA 2021 Annual Conference
47th Annual meeting of the British Paediatric Neurology Association
6-8 January 2021
The conference will be held virtually on the 6-8 January 2021. All session will be available 30 days following the conference for those who have registered. Please click here to view the scientific programme.
Bookings are now open! To find out more on prices and how to register, please click here.
For any queries, relating to booking onto the conference, please email Sameena.rashid@bpna.org.uk
Details

Write a comment
ICNA
Updated
July 12, 2020
ICNC2020 is going virtual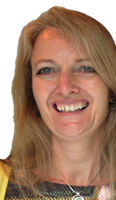 The COVID-19 pandemic has impacted on many of our lives and practices. The demands on health care have inevitably drawn our focus away from child neurology and child health in general. The ramification of the disruption to child health will be seen for years to come. Early intervention programs have become disrupted (e.g. measles vaccination, hearing screens), delayed presentation of children with neurological diseases and interruption of standard care for many of our patients, to name a few of the consequences of this pandemic. The impact on health care facilities and the staff within, cannot be measured in numbers alone.
Out of this awful situation, as clinicians, we need to explore optimal ways to support our patients, their carers and the colleagues with whom we work and collaborate. The pandemic has pushed us to innovate new ways to rise above the obstructions it has created.
Many of us have had to re-educate our ability to communicate via social media, we have had to re-organize our service structures, and help families make the decisions about balancing life activities vitally needed for their children but still maintaining social distancing. Without training, education and research we will stagnate and fail to evolve to offer optimal care for our patients.
The biannual ICNA congresses, and the education programs coordinated through the ICNA, are a vital part of this education. Enabling clinicians to present and debate their research and best care practices at an international level is essential to maintain a global approach to health care. Together we are stronger. Following on from this, the CNS/ICNC working group led by Jonathan Mink, Roger Larson and Philip Pearl have been endeavoring to construct the best congress to address the needs of child neurologists. After significant consideration, the decision has been made for the meeting to be fully virtual.
Whilst we were looking forward to seeing colleagues face to face, and traveling to San Diego, this clearly is not possible in the current times. However, as with many recent events this is an incredibly exciting opportunity. I am so pleased that the CNS were awarded the 16th ICNC as I cannot imagine a more innovative group who will mold the current high quality congress format into a virtual meeting. Based on the superb range and depth of presentations from the plenaries, to the symposia, the platform presentations and the posters, as well as the opportunities for the Special Interest Groups to meet and consolidate future initiatives, the congress itself could not be cancelled or even deferred.
The ICNA will support CNS using all of its resources to ensure that the 16th virtual ICNC meets all participant expectations and that the experience of those attending the virtual congress leaves them replete and inspired by the knowledge gained.

With my respect to the CNS team, ICNA is looking forward to supporting you in this next adventure.
Stay safe ICNA colleagues and wear your masks!
Jo Wilmshurst
President
ICNA
The Joint 16th International Child Neurology Congress & 49th Annual Child Neurology Society Meeting will be staged virtually/on-line in mid-October
Dates and times for live programming will be reviewed and reconfigured in the coming weeks. The virtual meeting will likely begin earlier and end later than the original October 19-23 dates with on-demand options possibly available for registered delegates well beyond October.
Presentation guidelines will be sent to speakers and poster presenters in early August when the meeting schedule has been reconfigured and the virtual meeting structure fully programmed. Ancillary meetings will also be included as part of the virtual meeting, including:
NDC Symposium
Pellock Seminar
CNCDP Retreat
ACNN Meeting
PCN and PCCN Meetings
Registration will open in early/mid August
The Virtual Joint 16th International Child Neurology Congress & 49th Annual Meeting will include: The full lineup of CME-accredited plenary lectures, symposia, seminars, workshops, meet-the-expert sessions and posters (more than 750!) originally scheduled for San Diego Dates and times may be rearranged to ensure optimal access to the full range of content, with some sessions live-streamed each day and all sessions available on demand Multiple social/networking opportunities throughout the meeting.
A robust virtual exhibit hall featuring commercial and non-profit partners and providers both old and new Industry-sponsored CME sessions and product theaters A strong line-up of fully committed, generously supportive corporate partners eager to explore new and exciting collaborative opportunities with child neurologists in our fast-changing field