Details
Write a comment
ICNA
Updated
March 08, 2020
Read more: Invitation to Participate- Moyamoya angiopathy (MMA) – Practitioner Survey
Details
Write a comment
ICNA
Updated
February 10, 2020
The International Child Neurology Association (ICNA) invites "letter of intent" from interested parties to enter the bidding to host the International Child Neurology Congress in 2024. 
Bidders are invited to send a "letter of intent" (not more than a short paragraph from the main coordinator or organizing scientific society (not the conference organising team) to the ICNA office with the Secretary of ICNA (secgen.icna@gmail.com) in copied in.
Details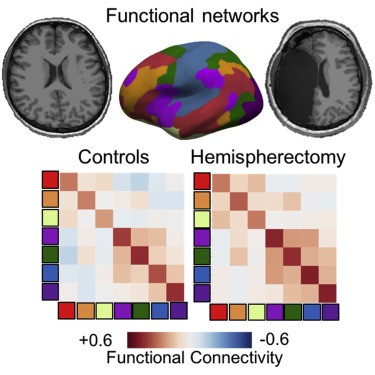 Write a comment
ICNA
Updated
February 08, 2020
In a fascinating new study published in Cell Reports investigators from California Institute of Technology, Pasadena, California quantifying intrinsic functional connectivity in six individuals who underwent hemispherectomy, in childhood. Studies of temporal correlations of blood-oxygenation-level-dependent signal (BOLD) as indirect measures of intrinsic functional connectivity with resting-state fMRI have suggested that a relatively small set of resting-state functional brain networks underlie cognition and behaviour. It has been known that despite profoundly atypical anatomy some individuals have been able to retain relatively intact cognitive abilities. However it has not been explained whether this compensation is due to a reorganisation of functional networks or whether the integrity of cognitive function is always dependent on basic resting-state networks.For this study hemispherectomy subjects and healthy controls were scanned with identical parameters on the same scanner and compared to a large normative sample (n = 1,482).
The researchers found that both hemispherectomy subjects and controls showed strong and equivalent intrahemispheric connectivity between brain regions typically assigned to the same functional network.For most of the hemispherectomy subjects the connectivity between different parts of different networks was markedly increased across all networks. The researchers hypothesize that a shared set of functional networks underlie cognition and that between-network interactions may characterize functional reorganization in hemispherectomy. Although there are several studies looking at the compensations in brain function following hemispherectomies, this is the first study to investigate resting-state functional networks across the entire hemisphere in individuals with hemispherectomy.
Hemispherectomies are performed in children with severe and intractable seizure disorder. Hemispherectomy is typically performed on children with Rasmussen's syndrome and on children have had strokes either perinatally or in early childhood and who have had intractable seizures often limited to one side of the brain. The study has provided fascinating new evidence on the reorganization of neural networks which results in compensated cognition following hemispherectomy and opens exciting prospects for further applications for resting-state fMRI studies on task-based functional localization.
---
Read More
Details
Write a comment
ICNA
Updated
February 08, 2020
Johnen A and colleagues from University of Münster, Germany in a recently published study in the European Journal of Paediatric Neurology suggests that early initiation of highly effective escalation therapies in pediatric patients with multiple sclerosis (MS) is associated with reduced cognitive impairment (CI) and may prevent cognitive decline in these patients.
They did a cohort study of 19 patients from a single center in Germany with therapy-naive or ß-interferon-treated juvenile MS (mean age, 15.05 years). The study participants completed a comprehensive neuropsychological assessment at the time of initial presentation and again at a mean follow-up period of 2.5 years. Physical disability was also assessed, along with neurological examination and magnetic resonance imaging (MRI).
At baseline, 47% (n=9) of patients were considered impaired in ≥1 cognitive test (z-score <−1.645 compared with age-adjusted normative data). The highest impairment frequency was found in domains for processing speed, as well as attention and executive function. At follow-up a higher impairment frequency was prominent in those patients whose therapy had not been escalated (N = 13, 69% impaired in at least one test), while cognition was preserved or ameliorated in patients whose treatment had been escalated to highly effective drugs (N = 6, 0% impaired) during the observational period.
These group differences at follow-up were not attributable to differences regarding demographics, MRI metrics or cognitive performance at baseline.
Read More
Details
Write a comment
Dear colleagues and friends,

As the elected chair of the Future Leaders of the ICNA (FLICNA) committee, I would like to thank all members of the ICNA. It is my great pleasure to be a part of this vibrant and welcoming community.
FLICNA is a newly formed group of young generation of child neurologists worldwide. We aim to assess the needs and aspirations of young colleagues and provide a platform for communication and collective thinking. I am very enthusiastic to work with friends from different backgrounds and to arrange e-meetings to come together and form a network. I hope to organize online and face-to-face lectures focusing on practical topics that can improve our daily clinical practice, adapt educational resources and discuss international research projects. With the mentorship of experienced child neurologists, I hope FLICNA will be a thriving body to include all colleagues to master core curriculum subjects, shape our future careers, promote research networking and improve our understanding of pediatric neurology.¨
- Esra Serdaroglu, MD PhD
Read More