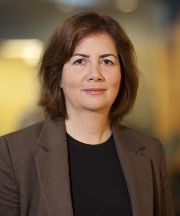 Professor Renda tribute Lecture
Dr Selcen will deliver the Renda tribute lecture on "Congenital myasthenic syndromes: an update"
Duygu Selcen earned her medical school degree at the Hacettepe University Medical School. After finishing the pediatric residency at the Hacettepe University Ihsan Dogramaci University, she completed pediatric neurology residency at the Wayne State University Children's Hospital. Dr. Selcen joined the Mayo Clinic after completing two-year fellowship in muscle diseases and muscle pathology at the Mayo Clinic and a year of Mayo Foundation Scholarship. Dr. Selcen is a consultant at the Mayo Clinic and is Professor of Neurology and Pediatrics. Her practice involves caring for patients with neurological and neuromuscular diseases, interpreting muscle biopsies and doing research. The research of Dr. Selcen focuses on neuromuscular diseases of children and adults especially of those involving the muscle and the neuromuscular junction.