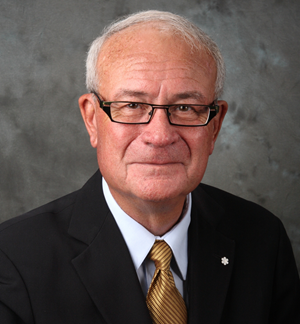 Robert Henry Albin Haslam [1936 - 2020]Dr. Robert (Bob) Henry Albin Haslam C.M., M.D., FAAP., FRCPC., DLitt(hon)
September 11, 1936 – March 30, 2020
Husband, father, grandfather, brother, uncle, teacher, mentor, researcher, clinician and internationally renowned pediatric neurologist, Dr. Robert Haslam passed away peacefully while surrounded by the love of his life, wife Barbara, along with sons Robert, David, Christopher and daughter-in-law Darlene.
Born in Saskatoon, Saskatchewan in 1936 to Newman and Elisabeth Haslam, Bob was the much loved older brother to sisters Eleanor Jensen and Judy Peddle. He met and married Barbara Frances McGregor in 1959 and graduated with an M.D. from the University of Saskatchewan the following year. After two years of internship and general practice in Saskatchewan, he completed a Residency in Pediatrics, including two years as Chief Resident, at Johns Hopkins Hospital in Baltimore, Maryland. In 1967 the family moved to Kentucky where Bob completed a Fellowship in Child Neurology at the University of Kentucky. They then returned to Baltimore where he served as Director of the John F. Kennedy Institute as well as Assistant and then Associate Professor of Pediatrics and Deputy Chairman of Pediatrics at Johns Hopkins.
In 1975 the family returned to Canada where Bob held the positions of Professor and Head of Pediatrics (and Clinical Neurosciences) at the University of Calgary and Pediatrician-in-Chief at the Alberta Children's Hospital from 1975-1986 and then Chairman of Pediatrics and Neurology at the University of Toronto and Pediatrician- in-Chief, Hospital for Sick Children from 1986-1996. Bob was passionate about teaching. He inspired numerous medical students to pursue a career in pediatrics and mentored child neurology residents while continuing his clinical practice in Toronto until 2000 and then in Calgary until his retirement in 2015.
Throughout his career, he published over 200 peer-reviewed papers, books and book chapters. He received numerous awards for his excellence as a clinician, administrator, educator and child health advocate. He was awarded the Queen Elizabeth II Golden and Diamond Jubilee Awards and in 2006, his family established the Dr. Robert H. A. Haslam Endowed Chair in Pediatric Neurology at the Alberta Children's Hospital in recognition of his outstanding career. The following year he was awarded the Order of Canada, C.M. He was proud to have recently been notified that he would be the 2020 recipient of the Henry Dunn Lifetime Achievement Award from the Canadian Association of Child Neurology.
Despite his many prestigious accolades and awards, Bob was best known as a compassionate, caring humanitarian who lived a life full of integrity, kindness and grace while literally touching the lives of thousands of pediatric patients and their families. He was a skillful diagnostician, with the ability to understand the most complex neurological problems after careful, targeted examination. His ability to connect with a child and communicate with parents was unmatched. To then be able to teach and instill these most essential skills in the hundreds of trainees he mentored has carried immeasurable impact.
He was active in the Anglican Church of Canada as Chairman of the College Council, Wycliffe College, University of Toronto and was a long time Warden at Christ Church in Millarville, Alberta.
His family was the dearest thing in his life. At home, he was "funny grandpa" to his grandchildren Matthew, Thomas, Morgan and Brendan whom he adored. He organized many extended family reunions to share love and laughter with his sisters, brother-in-law Bruce McGregor (deceased) and sisters-in-law, Mary Jones and Lyla Wall along with his wonderful nieces and nephews. He was an avid sports enthusiast, especially baseball and basketball. Bob and Barbara travelled the world extensively but Maui was their special destination to enjoy many family vacations.