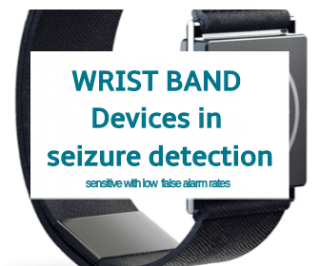 New research published in Epilepsia, a journal of the International League Against Epilepsy (ILAE), indicates that wristband devices may improve the detection and characterization of seizures in patients with epilepsy.
In their attempts to develop a better monitoring method, Giulia Regalia, PhD and Francesco Onorati, PhD, of Empatica Inc. in Milan, Italy and Cambridge, Massachusetts, and their colleagues examined the potential of automated, wearable systems to detect and characterize convulsive epileptic seizures. The researchers used three different wristbands to record two signals -- called electrodermal activity and accelerometer signals -- that usually exhibit marked changes upon the onset of convulsive seizures, obtaining 5928 hours of data from 69 patients, including 55 convulsive epileptic seizures from 22 patients.

The wristband detectors showed high sensitivity (95% of seizures were detected) while keeping the false alarm rate at a bearable level (on average, one false alarm every four days), which improves a pioneering 2012 study led by MIT professor Rosalind Picard, now chief scientist at Empatica.
In addition to detecting seizures, the method also revealed certain characteristics of the seizures, which may help alert clinicians and patients to seizures that are potentially dangerous and life-threatening.
"Multi-center clinical assessment of improved wearable multimodal convulsive seizure detectors." Francesco Onorati, Giulia Regalia, Chiara Caborni, Matteo Migliorini, Daniel Bender, Ming-Zher Poh, Cherise Frazier, Eliana Kovitch Thropp, Elizabeth D. Mynatt, Jonathan Bidwell, Roberto Mai, W. Curt LaFrance, Jr., Andrew S. Blum, Daniel Friedman, Tobias Loddenkemper, Fatemeh Mohammadpour-Touserkani, Claus Reinsberger, Simone Tognetti, and Rosalind W. Picard. Epilepsia; Published Online: October 4, 2017 (DOI: 10.1111/epi.13899).
Please note: The ICNA or ICNApedia does not endorse any of the companie(s) or products mentioned, and there may be other companies that provide these types of products. The decision to use an alarm or other safety aid is a personal one which you would take in discussion with your physician.