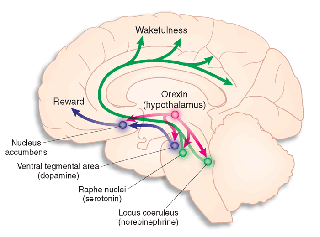 A randomized, double-blinded trial has shown that pitolisant, a drug that targets a specific histamine receptor, can reduce cataplexy, a very disabling symptom of narcolepsy. Cataplexy is a sudden and uncontrollable muscle weakness or paralysis that comes on during the day and is often triggered by a strong emotion, such as excitement or laughter. The loss of muscle tone in cataplexy occurs because of the inability to regulate sleep and awake states -- meaning that elements of each can overlap. During normal rapid eye movement (REM) sleep, there is a natural loss of muscle tone. In the case of cataplexy, that characteristic of REM sleep occurs suddenly during the day, causing weakness or full paralysis, even as the person remains awake during the episode.
The study is published in the January 24 online edition of the Lancet Neurology. According to the lead author Jean-Charles Schwartz, PhD "If these data are confirmed in long-term studies, this drug could be useful for narcolepsy patients with or without cataplexy and those with less severe sleep disturbances,". Pitolisant is a histamine H3 receptor inverse agonist. Blocking the receptor with pitolisant activates histamine release in the brain and increases wakefulness and reduces cataplexy events.
Currently US Food and Drug Administration (FDA) approved therapies for narcolepsy which alter dopamine transmission and other off-label drugs used that act on serotonin and norepinephrine are not effective for treating cataplexy, The only FDA drug available for cataplexy is sodium oxybate (Xyrem), a short-acting liquid drug that must be swallowed twice during the night. The researchers Dr. Schwartz and Jeanne Marie Lecomte, PhD, started a biotechnology company, Bioprojet Pharma, and are now preparing an application to seek FDA approval of pitolisant.
Study
For this randomised, double-blind, placebo-controlled trial patients with narcolepsy were recruited from 16 sleep centres in nine countries (Bulgaria, Czech Republic, Hungary, Macedonia, Poland, Russia, Serbia, Turkey, and Ukraine). Patients were eligible if they were aged 18 years or older, diagnosed with narcolepsy with cataplexy according to version two of the International Classification of Sleep Disorders criteria, experienced at least three cataplexies per week, and had excessive daytime sleepiness (defined as an Epworth Sleepiness Scale score ≥12).
They used a computer-generated sequence via an interactive web response system to randomly assign patients to receive either pitolisant or placebo once per day (1:1 ratio). Randomisation was done in blocks of four. Participants and investigators were masked to treatment allocation.
Treatment lasted for 7 weeks: 3 weeks of flexible dosing decided by investigators according to efficacy and tolerance (5 mg, 10 mg, or 20 mg oral pitolisant), followed by 4 weeks of stable dosing (5 mg, 10 mg, 20 mg, or 40 mg). The primary endpoint was the change in the average number of cataplexy attacks per week as recorded in patient diaries (weekly cataplexy rate [WCR]) between the 2 weeks of baseline and the 4 weeks of stable dosing period. Analysis was by intention to treat.
117 patients were screened, 106 of whom were randomly assigned to treatment (54 to pitolisant and 52 to placebo) and, after dropout, 54 patients from the pitolisant group and 51 from the placebo group were included in the intention-to-treat analysis.
The WCR during the stable dosing period compared with baseline was decreased by 75% (WCRfinal=2·27; WCRbaseline=9·15; WCRfinal/baseline=0·25) in patients who received pitolisant and 38% (WCRfinal=4·52; WCRbaseline=7·31; WCRfinal/baseline=0·62) in patients who received placebo (rate ratio 0·512; 95% CI 0·43–0·60, p<0·0001).
Treatment-related adverse events were significantly more common in the pitolisant group than in the placebo group (15 [28%] of 54 vs 6 [12%] of 51; p=0·048).
There were no serious adverse events, but one case of severe nausea in the pitolisant group. The most frequent adverse events in the pitolisant group (headache, irritability, anxiety, and nausea) were mild or moderate except one case of severe nausea. No withdrawal syndrome was detected following pitolisant treatment; one case was detected in the placebo group.
The researchers concluded that pitolisant was well tolerated and efficacious in reducing cataplexy. If confirmed in long-term studies, pitolisant might constitute a useful first-line therapy for cataplexy in patients with narcolepsy, for whom there are currently few therapeutic options.

Histamine and Sleep
Dr. Schwartz 's lab discovered histamine's role as a neurotransmitter in 1975 and subsequently Dr. Schwartz identified the H3 receptor. He went on to describe its critical role in the sleep-wake cycle, and designed a drug that singularly targets these receptors and showed that blocking these receptors would work as a treatment for narcolepsy.
The studies that followed led to pitolisant's approval in Europe in 2015. Histamine is released from a group of only 2,000 neurons, specifically in the tuberomammillary nucleus of the hypothalamus that innervates the brainstem and up into the basal forebrain. Cataplexy, an autoimmune disease, leads to loss of hypocretin (also known as orexin) neurons, which are located in a nearby hypothalamic pathway responsible for regulating the activity of wake-promoting monoaminergic systems, like histamine.
Citation
Szakacs Z, Dauvilliers Y, Mikhaylov V, et alfor the HARMONY-CTP Study Group. Safety and efficacy of pitolisant on cataplexy in patients with narcolepsy: A randomized, double-blind, placebo-controlled trial http://http://www.thelancet.com/journals/laneur/article/PIIS1474-4422(16)30333-7/abstract. Lancet Neurol 2017; Epub 2017 Jan 24.

Dauvilliers Y, Bassetti C, Lammers GJ, Schwartz JC. Pitolisant versus placebo or modafinil in patients with narcolepsy: A double-blind, randomized trial http://www.thelancet.com/journals/laneur/article/PIIS1474-4422(13)70225-4/abstract. Lancet Neurol 2013;12(11):1068–1075.

Cover: Orexin projections from hypothalamus to the brain. Image source: http://www.nature.com/nm/journal/v13/n2/images/nm0207-126-F1.gif