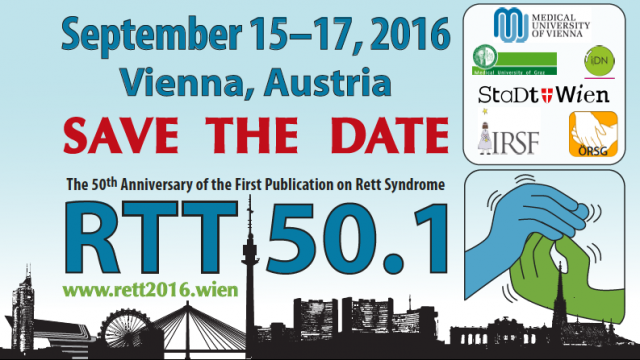 The 50th anniversary of the first publication on Rett Syndrome by Andreas Rett is being celebrated with an international conference RTT 50.1, from 15th to 17th September 2016 in the historic city of Vienna, home to Andreas Rett and 'birthplace' of Rett syndrome.

RTT 50.1 is open to patients, clinicians, scientists, researchers and other healthcare professionals. Keynote lectures, oral presentations and posters aim at outlining History, (R)Evolution in Rett Syndrome, State of the Art and RTT50.1 – future trends and developments – what can we expect?
Please see the congress website at www.rett2016.wien for further details and to sign up to the congress newsletter.
ORGANIZING COMMITTEE (Scientific & Local Organizing Committee)
Michael Freilinger (Vienna, AT)
Peter B Marschik (Graz, AT – Stockholm, SWE)
Christa Einspieler (Graz, AT)
Alan Percy (Birmingham, AL, USA)
Walter E Kaufmann (Boston, MA, USA)
Leopold MG Curfs (Maastricht, NL)
Further reading:

Rett A. [On a unusual brain atrophy syndrome in hyperammonemia in childhood]. Wien Med Wochenschr. 1966 Sep 10;116(37):723-6. German. PubMed PMID: 5300597.
The American History of Rett Syndrome. Alan Percy, MD