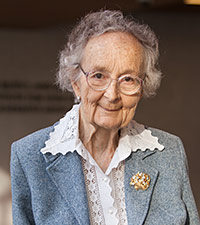 The International Child Neurology Association (ICNA) is deeply saddened to hear the passing of Isabelle Rapin, MD. Dr Rapin, a true giant in the field of child neurology has helped found the International Child Neurology Association and has been a staunch supporter of its activities and ICNApedia all her life.
Dr Rapin was a member of the first executive board of the ICNA (1973–1975) and Chairman of the Program Committee for the first ICNA Congress  October 6–10, 1975 held in Toronto.She was also the recipient of the ICNA Frank R. Ford Award in 1990 and delivered her Lecture on "Autism as a neurological disorder" at the Toronto congress in 1990. She had previously received the Hower award from the Child Neurology Society, USA in 1987. Dr Rapin's other awards and recognitions include the President's Award from the American Academy of Neurology, Honorary Alumna status from the Albert Einstein College of Medicine, Award for Excellence in Autism Research from the Autism Society of America and the Shriver Center Award.
According to Dr Kenneth J. Mack, current President of the Child Neurology Society (CNS) and Executive Board Member of the ICNA the  breadth and depth of Dr Rapin's knowledge was exceeded only by her collaborative spirit and her unfailing willingness to engage younger colleagues in conversation who sought her wise counsel at Einstein Medical Center or at any number of national and international meetings.
The New York Times said: "Considered by many the doyenne of autism, Dr. Rapin has spent decades studying the disability."  while the Boston Globe described her as a


"leading authority on autism". She was a fellow of the American Academy of Neurology (FAAN).
She was a professor emerita in both the Saul R. Korey Department of Neurology and the Department of Pediatrics at the Albert Einstein College of Medicine in New York City from where she retired in 2012, at the age of 84.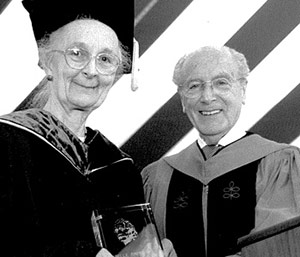 Dr. Rapin receiving her Honorary Alumna award at commencement, in 2000, from Dr. Dominick P. PurpuraIn an autobiography published in the Journal of Child Neurology in 2001, She said:
"The message I would give a young colleague is that child neurology is a wonderfully rewarding field, intellectually and personally, because of the families you will meet. In order to have it all, that is, be married, have children, restore and furnish an antique house, work in the garden, enjoy a lot of what life offers, and have a great job, you need a supportive and generous mate, adequate baby sitting and house help, flexibility, good humor, and a nose for the unusual. Consider every patient a potential source of new knowledge, describe what you see, pursue your interests vigorously, and learn to cut corners and prioritize. Find a good mentor, enjoy what you do, and be lucky."
Dr Rapin along with Dr Roberto Tuchman edited the ICNA IRCN series title "Autism: A Neurological Disorder of Early Brain Development" in 2006. Some of her other works include
Riva D, Rapin I, Zardini G (2006). Language: Normal and Pathological Development. John Libbey Eurotext Ltd. ISBN 978-2472006384.
Rapin I (1996). Preschool Children with Inadequate Communication. MacKeith Press. ISBN 978-1898683070.
Rapin I (1994). Handbook of Neuropsychology. 6. Elsevier Science Ltd. ISBN 978-0444820600.
Rapin I (1982). Children with Brain Dysfunction: Neurology, Cognition, Language, and Behavior. Raven Press. ISBN 978-0890048443.
Haas RH, Rapin I, Moser HW (1988). Rett Syndrome and Autism. Year Book Medical Pub. ISBN 978-9990808179.
 In addition she has authored more than 135 papers and 75 book chapters. One of her latest contributions to ICNApedia was an article she wrote following the news of the demise of Dr Masaya Segawa titled "2014: Passing of the Guard in International Child Neurology".
With her passing, the International Child Neurology Community has lost yet another true great, but her legacy and teachings will live for ever through the work of the associations she helped build and the countless students and colleagues she had mentored.
See also: