Epidiolex® (cannabidiol or CBD) data from the physician-led expanded access program in treatment-resistant epilepsy were published in The Lancet Neurology.
The published paper reports that Epidiolex reduced seizure frequency across multiple drug-resistant epilepsy syndromes and seizure types and was generally well tolerated. The authors note that the administration of Epidiolex® as an add-on treatment led to a clinically meaningful reduction in seizure frequency in many patients and had an adequate safety profile in this patient population with highly treatment-resistant epilepsies. The safety and tolerability profile of Epidiolex was favorable with only 3 percent of patients terminating therapy due to an adverse event. The authors note that without a control group, the results regarding efficacy and safety should be interpreted cautiously.
These data reinforce and support the safety and efficacy reported in previous studies and provides hope to the children and their families who have been living with debilitating seizures. Further study is needed before results can be confirmed and randomized controlled studies are now underway to help us better understand the effectiveness of the drug.
The expanded access program is a non-placebo controlled "compassionate access" program carried out by individual investigators independent from GW Pharmaceuticals who owns the proprietary rights for Epidiolex®. Patients enrolled in the expanded access program were some of the most treatment-resistant patients being treated at each of the epilepsy centers. Prior to participating in the expanded access program, many of these patients failed to achieve seizure control despite treatment with antiepileptic drugs, dietary therapies, surgical therapies, and vagus nerve stimulation.
The median number of concomitant antiepileptic drugs at the start of the trial was three. Data in the paper are from 11 independent epilepsy centers in the U.S.; 162 patients who had at least 12 weeks of follow-up after the first dose of cannabidiol were included in the safety and tolerability analysis, and 137 patients were included in the efficacy analysis. Of these 162 patients, there were 33 patients with Dravet syndrome and 31 patients with Lennox-Gastaut syndrome (LGS). Dravet syndrome and LGS are two rare, extremely debilitating epilepsy syndromes that begin in infancy or early childhood. Ninety percent or more of people with Dravet Syndrome and LGS are considered treatment resistant.
The Lancet Neurology paper provides a more expansive description of data previously presented at the American Academy of Neurology Annual Meeting in April 2015. Since that time, additional expanded access data, encompassing almost twice the number of patients, were presented as a late-breaking poster at the American Epilepsy Society Annual Meeting earlier this month2.
GW Pharmaceuticals Phase 3 pivotal safety and efficacy studies in Dravet syndrome and Lennox-Gastaut Syndrome are now nearing completion and will provide the placebo-controlled efficacy and safety profile that patients and physicians have been calling for.
Treatment effect data analysis used in this publication mainly focused on monthly seizure frequency calculated over the entire 12-week treatment period (including a 4-week dose titration period) compared to monthly seizure frequency during a 4-week baseline observation period. This calculation is similar to the approach being utilized in calculating the U.S. Food and Drug Administration's (FDA) recommended primary efficacy endpoint in GW's Epidiolex Phase 3 pivotal trials, which compare percent change in the monthly seizure frequency over the entire 14-week treatment period (including a 2-week dose titration period) to monthly seizure frequency during the 4-week baseline observation period.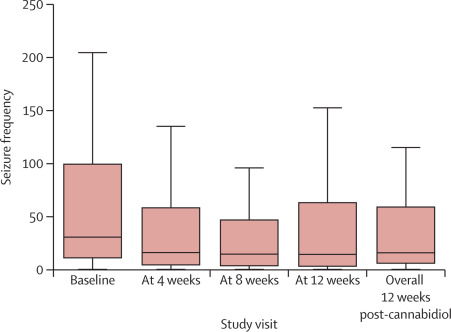 Monthly frequency of motor seizures in patients in the efficacy analysis group (n=137) Boxplots show median values, with 25th and 75th percentiles. The whiskers denote the 25th percentile – 1·5 × IQR and the 75th percentile + 1·5 × IQR.
Highlights from the publication include:
Dravet syndrome: The median reduction in monthly motor (i.e., convulsive) seizures was 49.8% (n=32). 50% of Dravet syndrome patients had a 50% or greater reduction in monthly motor seizures. During the last 4 weeks of therapy, 13% (n=4) were free of motor seizures; these patients were also free of all other seizure types. In Dravet syndrome patients who experienced them at baseline, there was a median 69.2% reduction in monthly tonic seizures (n=6), 46.7% reduction in monthly tonic-clonic seizures (n=29), and 83.3% reduction in non-motor focal seizures (n=10).
LGS: A median 68.8% reduction in average monthly atonic seizures was observed (n=14). During the last 4 weeks of therapy, 21% (n=3) were free of atonic seizures and 3% (n=1) were totally seizure free. In LGS patients who experienced motor and tonic seizures at baseline, there were median 36.8% (n=30) and 44% (n=21) reductions, respectively.
Adverse events occurred in 79% of all patients treated with cannabidiol (n=162). Adverse events reported in greater than 10% of patients were somnolence (25%), decreased appetite (19%), diarrhea (19%), fatigue (13%) and convulsion (11%). Most adverse events were mild or moderate and transient. Five patients (3%) discontinued treatment due to an adverse event.
Serious adverse events were reported in 48 patients (30%), including one death, regarded as unrelated to CBD. Serious adverse events which were deemed possibly related to CBD occurred in 20 patients.